How to get a Resource Consent in under 30 days!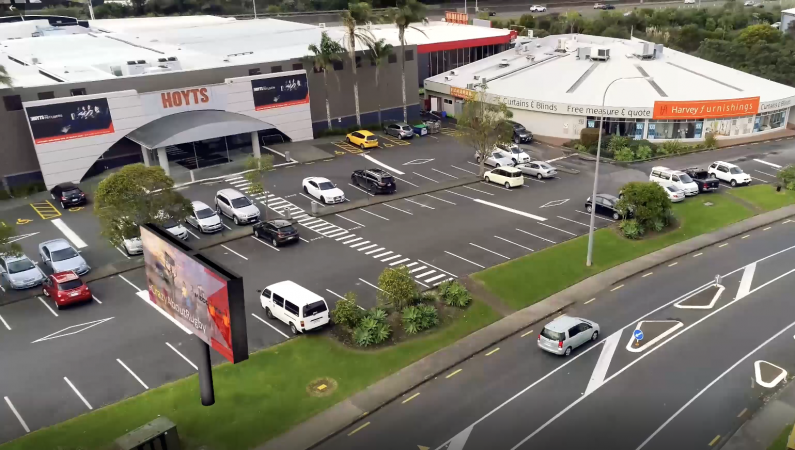 Digital Signs are a full service company in the space of digital advertising offering consultancy and advice, Resource Consent applications, supply and install of quality LED screens, after market service contracts and a full content management service.
One of our clients (Wairau Park Syndicate) asked us to install a double-sided 6m x 3.2m high quality digital billboard outside one of their tenants, Hoyts Cinema, at 15 Link Drive, Wairau Valley, Auckland.
This required the issue of a new Resource Consent (something Digital Signs do a fixed fee basis, like they do with most of their work). Once the deal was agreed we got to work and on Monday 19 August 2019 the full Consent application was lodged with Auckland Council, along with the usual requirements of scale plans, Traffic Engineering Report and an Assessment of Environmental Effects.
IN UNDER 30 DAYS the consent was granted (Thursday 12 September 2019) with the Council Traffic Engineer calling our report "comprehensive".
Congratulations to the Team at Auckland Council for such prompt processing of a Consent Application, but also to the Team at Digital Signs for being able to do the job right first time, on budget and at a lightening quick pace.
Digital Advertising has started marketing the site already and it is likely there will be orders in place for astute advertisers before the sign even goes up!
15 Link Drive is a large format retail site comprising of Tenpin Bowling and Hoyts Cinema. Link Drive is a main route for everyone from Windsor Park and Sunnynook wanting to get down to Wairau or onto the motorway and vice versa.
Link Drive has very strong traffic volumes of which a large portion are in the mood to shop. Link Drive is very much a "go to" destination with multiple well known restaurants as well as other large format retail shops like Early Settler, Beds R Us, Lighting Direct and Xtreme Entertainment.
If you are wanting to be the ONLY advertiser of your product or service then give the Team at DBA a call right now. If you're wanting something a little cheaper, then you surely cannot be much more cost effective than only paying $1.00 + GST/ad. Either way, if you're serious about doing business in Wairau or the greater Auckland region then you need to be on this site.
Did you know there is a 40% increase in the effectiveness of online marketing, when you support that with Out of Home as well. When we reviewed that research (Omnicom Media Group's Benchmarking) it made sense to us - imagine last night you were on Trademe and an ad popped up, then the next day you were driving around and you saw the same graphics popping up! Of course it's going to keep building the influencing blocks in your brain, bringing you closer and closer to making the decision to buy!
Love it!